Veneto
Wine Tours
Veneto is a region of contrasts making it a captivating destination for travelers and wine enthusiasts alike.
Veneto
Since antiquity, semi-dried grapes have worked their magic in Valpolicella. Today, Amarone is the most luscious expression of this ancient style. Discover its many facets along with the new face of Soave. Explore the incredible art and architecture in Verona and Padua.
Highlights
Famous food fare: Venetian cuisine is known for its seafood dishes, such as baccalà, sarde in saor, and risotto di gò. The region is also famous for its traditional dessert, tiramisù.
Palladian architecture: Veneto is home to several stunning examples of Renaissance architecture designed by the famous architect Andrea Palladio, including the Villa Capra and the Teatro Olimpico.
Majestic Mountains: The Veneto region includes part of the Dolomite Mountains, a UNESCO World Heritage Site known for its stunning natural beauty and opportunities for outdoor activities such as skiing, hiking, and rock climbing.
Carnival of Venice: The Carnival of Venice is one of the oldest and most famous carnivals in the world, known for its elaborate costumes and masks. The festival takes place every year in the weeks leading up to Lent.
Hotel Danieli
Features
Facing the Venetian lagoon and just steps from San Marco, Hotel Danieli, Venice is a 5-star property with elegant and spacious accommodations, while the rooftop restaurant, Terrazza Danieli offers spectacular lagoon views. The historic hotel showcases majestic Venetian architecture that dates back as far as the 14th Century.
Visit Verona
Features
Verona is a beautiful city with a rich history and culture, famous for its well-preserved Roman arena, Juliet's balcony, and charming old town. It's a great place to visit for art, architecture, and history lovers, as well as foodies who want to taste traditional Veronese dishes and access the fine wines of the Valpolicella.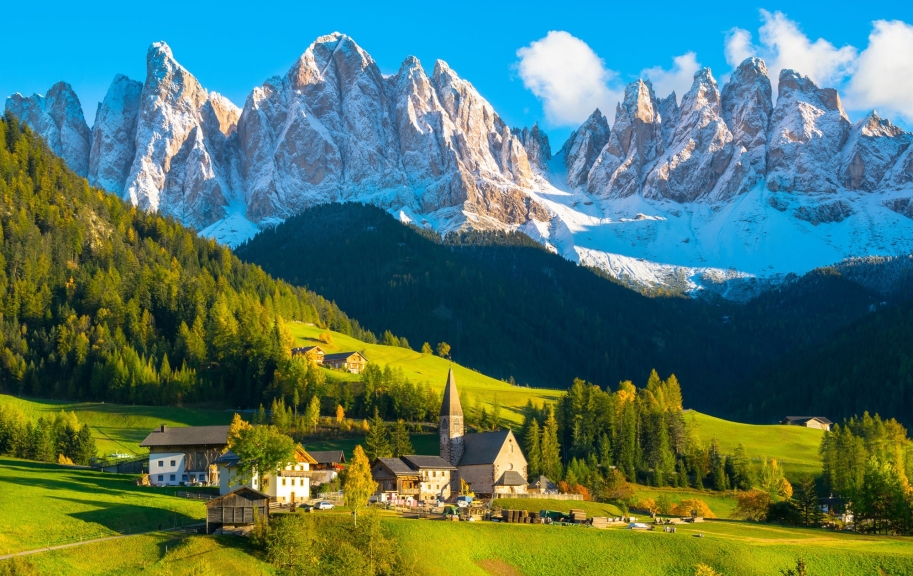 Experience Alto Adige
Features
Also known as South Tyrol, Alto Adige is known for its high-altitude vineyards and Alpine scenery. It's a great place to visit for wine enthusiasts who want to taste unique varietals such as Lagrein and Gewürztraminer and to enjoy outdoor activities such as walking and hiking amidst stunning mountain views. 
Visit Top Amarone Producers
Features
Allegrini: One of the most famous and respected wine producers in the region, Allegrini produces award-winning Amarone wines, as well as Valpolicella and Ripasso wines.

Tommasi: Tommasi is another well-known producer of Amarone, as well as Valpolicella, Bardolino, and other varietals.

Zenato: Zenato is a family-run winery that produces a range of high-quality wines, including the popular Amarone della Valpolicella.
Discover Wine Pairing Trips
Custom Travel Itineraries
You're in control
At Into The Vineyard, we pride ourselves on our ability to offer you complete freedom to build your perfect trip. Start with one of our many sample itineraries and customize as you desire, or start with a blank page, and with the help of our expert Trip Planners, we can create your dream wine-inspired travel experience. 

Testimonials
Carousel items
We just had an amazing trip to France/Spain to celebrate our 10-year wedding anniversary. I want to thank Into the Vineyard as they picked wonderful spots for us to stay along with some amazing adventures.

Brad Janitz

Hands down, the trip of a lifetime! My husband and I booked a two-week trip to France with Into the Vineyard, and we couldn't have asked for a better experience. Colin worked closely with us to understand our preferences before the trip and then custom-curated our itinerary based on that. Everywhere we went was absolutely amazing, and the fact all of the research, planning, and booking was done for us alleviated a lot of stress.

Heather Hale

My Husband & I just returned from a 2 week trip planned by INTO THE VINEYARD. This trip of a lifetime far exceeded our expectations...The properties we stayed at we loved & the guides were welcoming and had so much knowledge that they passed on to us. Thank you to Colin & his team for this unforgettable trip.

Bea "Bibi" Myerson

This was the second tour my wife and I have arranged through Into The Vineyard, and like the first tour, it delivered everything we had hoped for and more. Yes, a 3-week custom trip with high end accommodations and extensive use of personal guides along the way is expensive, but in our opinion worth the cost as long as it provides the desired experiences. Providing those experiences is what Into The Vineyard excels at.

Mark Sanford