Puglia
Wine Tours
Whether you're exploring the historic vineyards or savoring a glass of Primitivo with local cuisine, Puglia offers a unique and enjoyable wine experience.
Puglia
A once overlooked region of Italy, Puglia sits at the heel of the country. Be charmed by its baroque towns, white-washed trullo houses, olive groves and orchards, spectacular cliffs, crystal clear waters, unspoilt beaches, plenty of sunshine and excellent cuisine.
Historically, Puglia was a primarily farming region, and its character today still reflects its relatively humble agricultural past. It is the place of the so-called Cucina Povera (the cuisine of poverty) and it is certainly true that this traditionally poor area has made the very best of its local produce. With no rules, recipes have long been improvised from what is available, including pasta made without eggs and bread made from local durum wheat.

The food is some of the best in all of Italy and your time here will highlight what Puglia has to offer.
Highlights
Unique trulli houses: The town of Alberobello is particularly famous for its collection of trulli houses, which are a UNESCO World Heritage Site.

Beautiful beaches: Puglia is home to some of Italy's most stunning beaches, with crystal-clear waters and white sand.

Olive oil: Puglia is the largest producer of olive oil in Italy and is known for its high quality and unique flavor.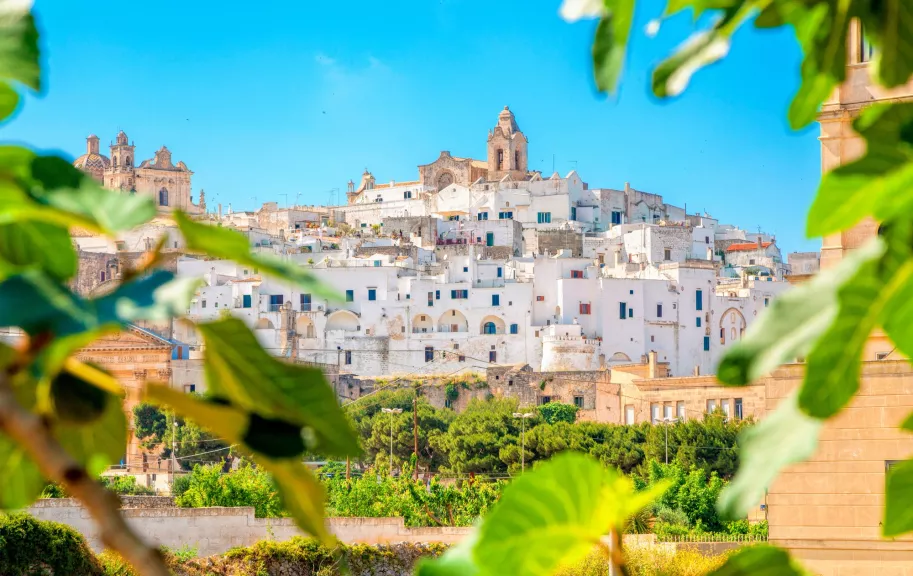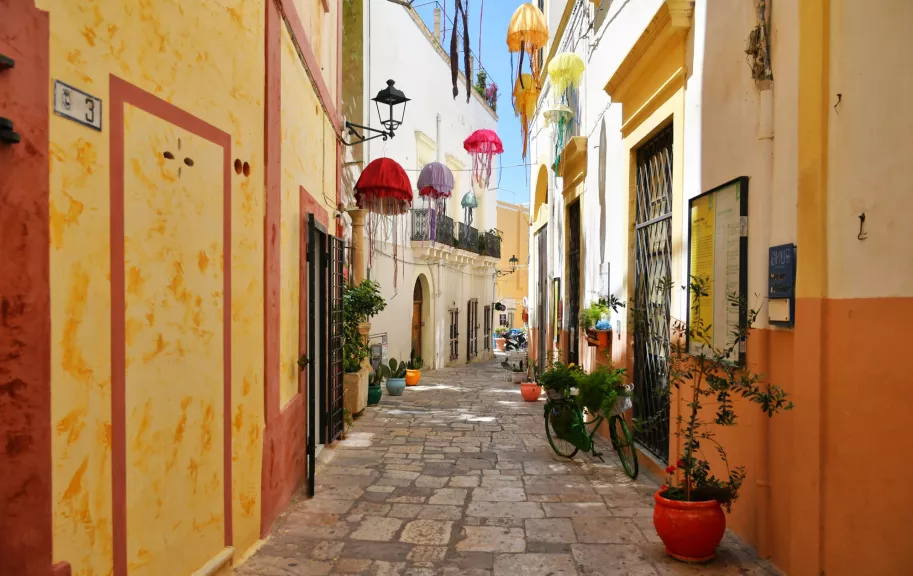 Visit Lecce
Features
Known as the "Florence of the South," Lecce is a charming city with beautiful Baroque architecture and a lively arts scene.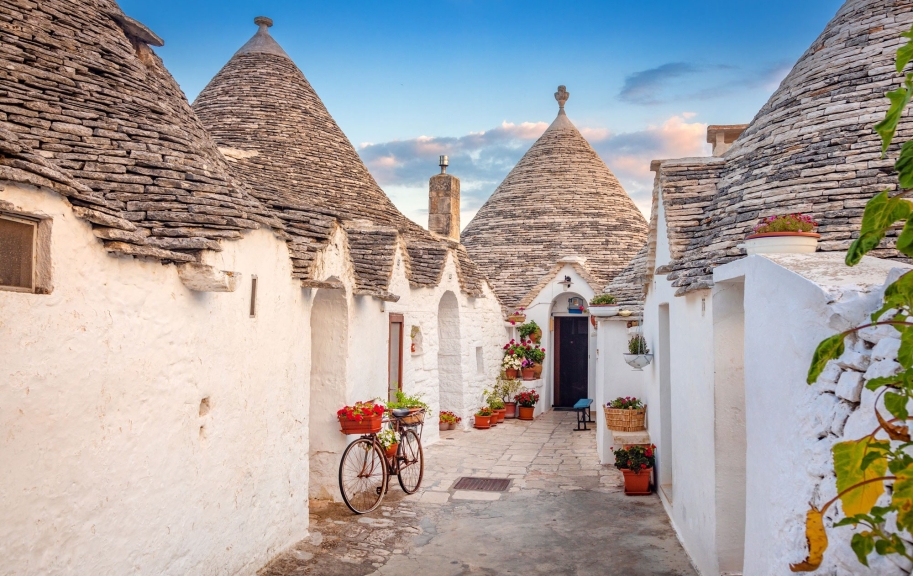 Trulli of Alberobello
Features
Visit a UNESCO World Heritage Site. Explore the Trulli of Alberobello site features traditional cone-shaped houses that are unique to the Puglia region or visit the historic town of Matera, an ancient city famous for its "Sassi," or cave dwellings.
Local Cuisine Cooking Class
Features
Puglia is known for its delicious food, including fresh seafood, handmade pasta, and local wines. Be sure to try specialties like orecchiette pasta, burrata cheese, and grilled octopus. Learn how to make traditional Puglian dishes like orecchiette pasta, stuffed peppers, and pasticciotto pastries.
Wine Experience
Features
We recommend places like; 
Gianfranco Fino Winery in Manduria, Puglia is a renowned winery specializing in Primitivo grape varieties. With award-winning wines and personalized tours, it's a picturesque destination for wine enthusiasts.
Cosimo Taurino Winery, located in Salice Salentino, Puglia, produces high-quality wines using traditional techniques. Its 16th-century cellar and stunning surroundings make it a perfect spot for an authentic wine-tasting experience.
Cantele Winery in Guagnano, Puglia offers award-winning, sustainable wines. With personalized tours in a beautiful location, it's an ideal choice for environmentally-conscious wine lovers.
Masseria Li Veli Winery, in a restored 19th-century farmhouse, is situated in Puglia's scenic countryside. Known for its high-quality wines, on-site restaurant, and sustainable practices, it offers tastings, tours, and hosts events year-round.
Discover Wine Pairing Trips
Custom Travel Itineraries
You're in control
At Into The Vineyard, we pride ourselves on our ability to offer you complete freedom to build your perfect trip. Start with one of our many sample itineraries and customize as you desire, or start with a blank page, and with the help of our expert Trip Planners, we can create your dream wine-inspired travel experience. 

Testimonials
Carousel items
We just had an amazing trip to France/Spain to celebrate our 10-year wedding anniversary. I want to thank Into the Vineyard as they picked wonderful spots for us to stay along with some amazing adventures.

Brad Janitz

Hands down, the trip of a lifetime! My husband and I booked a two-week trip to France with Into the Vineyard, and we couldn't have asked for a better experience. Colin worked closely with us to understand our preferences before the trip and then custom-curated our itinerary based on that. Everywhere we went was absolutely amazing, and the fact all of the research, planning, and booking was done for us alleviated a lot of stress.

Heather Hale

My Husband & I just returned from a 2 week trip planned by INTO THE VINEYARD. This trip of a lifetime far exceeded our expectations...The properties we stayed at we loved & the guides were welcoming and had so much knowledge that they passed on to us. Thank you to Colin & his team for this unforgettable trip.

Bea "Bibi" Myerson

This was the second tour my wife and I have arranged through Into The Vineyard, and like the first tour, it delivered everything we had hoped for and more. Yes, a 3-week custom trip with high end accommodations and extensive use of personal guides along the way is expensive, but in our opinion worth the cost as long as it provides the desired experiences. Providing those experiences is what Into The Vineyard excels at.

Mark Sanford