Chilean
Wine Tours
Discover the best Chilean wines while enjoying delicious cuisine, exploring colonial cities, and admiring breathtaking views of the Andes.
An oasis to
flourish and
produce
world-class wines
Located on the South Western coast of South America, Chile is a viticultural paradise, where grape varieties from around the world have found an oasis to flourish to produce world-class wines. Surrounded by ocean, desert, glaciers, and mountains, the term 'organic' is simply part of the culture here.

Experience stunning scenery while exploring the new wine-making techniques and commitment to bio-dynamics that have made Chilean wines so coveted. From north to south, Chile offers unique terroir, which gives Chilean wine its character, from the soil, climate, and geography, to the human touch of the winemakers.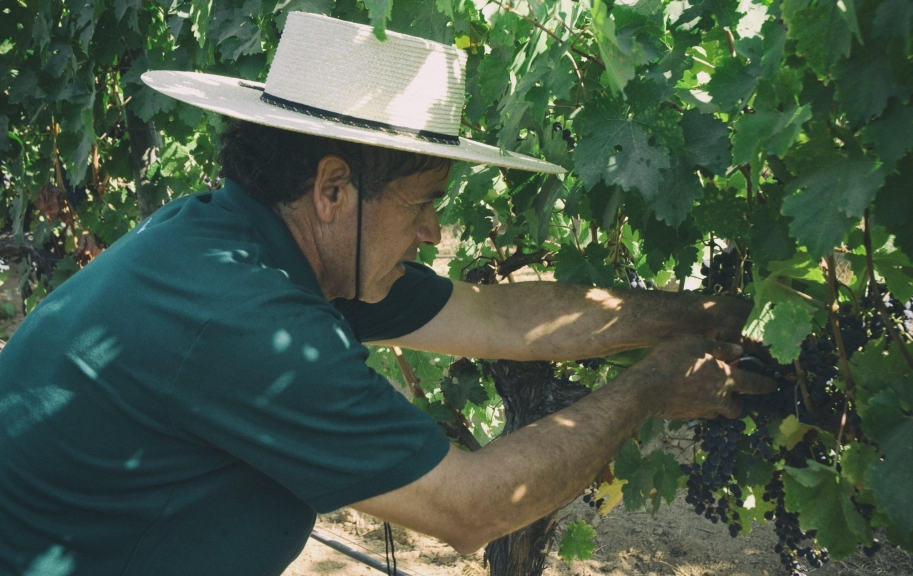 Discover other wine regions in Chile
Chile Grape Varieties:
Maipo Valley
One of Chile's largest and most historically significant wine regions, the Maipo Valley has the nation's capital city of Santiago at its heart. The valley includes more than 30,000 acres of vineyards, more than half of which are dedicated to Cabernet Sauvignon.

For the past 150 years, vines have grown to the north of the city, while thousands of acres of vines also thrive in the fertile passageway that extends southwest of Santiago!

Highlights
Natural beauty: The Maipo Valley is located at the foot of the Andes Mountains, and its landscape is characterized by rolling hills, vineyards, and olive groves. Visitors can enjoy hiking, horseback riding, and other outdoor activities in the region.
Historic sites: Home to several historic sites, including the Casa Patronal de Santa Rita, and the San Francisco de Mostazal Church, which dates back to the 18th century.
Cuisine: The Maipo Valley is known for its delicious cuisine, which includes local specialties such as empanadas, pastel de choclo, and asado.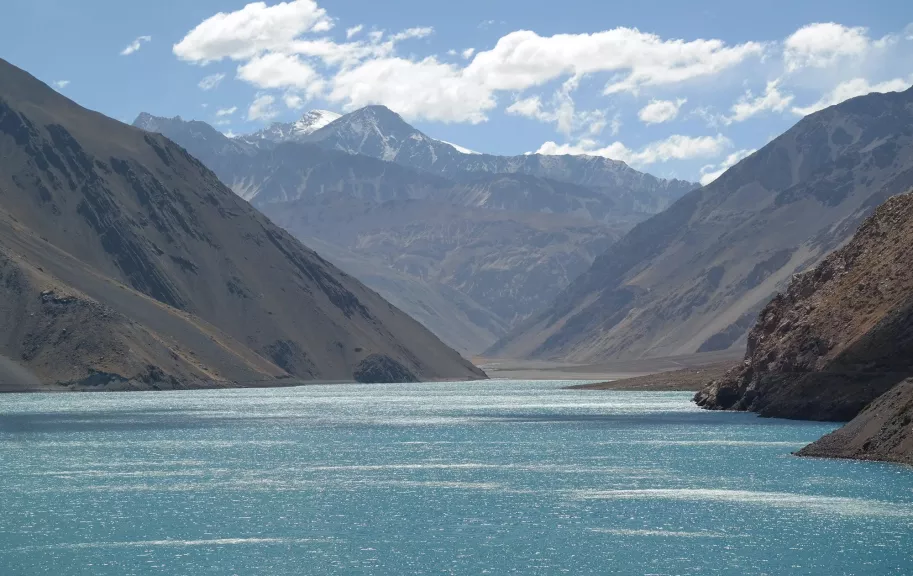 Colchagua Valley
The Colchagua Valley, set in the southwestern half of the larger Rapel Valley, is known for its beautiful vineyard-covered hills, hundred-year-old vines, modern high-tech wineries, and enchanting colonial estate houses.

Still very much under the radar and relatively new compared to the traditional Maipo Valley, the region produces full-bodied red wine varietals including Cabernet Sauvignon, Syrah, and the country's famed carménère. The quality wines are thanks to a favorable mix of mild Mediterranean climate with marine breezes cooling the vines and granitic and volcanic soils which allow grapes to ripen with little intervention.
Highlights
Historic Sites:  Home to several historic sites, including the Santa Cruz Plaza, a 19th-century plaza that is surrounded by colonial architecture, and the Colchagua Museum, featuring exhibits on the history and culture of the region.
Get to Know Carmenère: A fascinating variety originating from the Médoc region of France, used to produce deep red wines. This medium-bodied red wine is now almost exclusively grown in Chile, where it has found a new identity and is often referred to as Chile's "signature grape."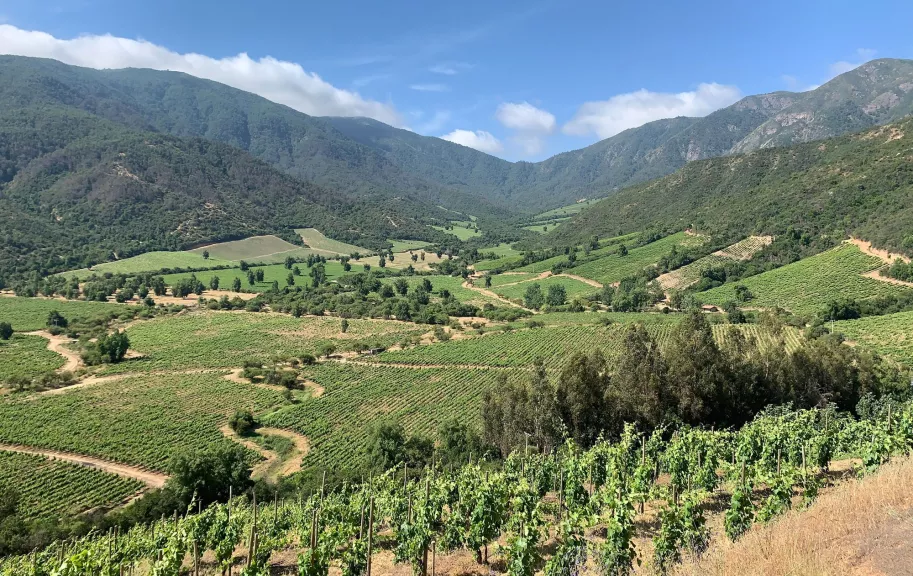 Casablanca Valley & Valparaiso
Welcome to the enchanting world of luxury travel in Casablanca Valley & Valparaiso, South America's most renowned cool-climate wine regions. Immerse yourself in acres of rolling hills adorned with picturesque vineyards and wineries that produce some of the world's finest Sauvignon Blanc, Pinot Noir, Chardonnay, and Rosé wines.

Embark on tastings and private tours led by skilled winemakers, who will share their expertise and passion for winemaking. Discover the secrets behind crafting these exceptional wines while indulging in delightful culinary experiences.

In addition to the wine-related activities, take a hike through nearby national parks, where you'll be treated to breathtaking landscapes and natural beauty. Marvel at iconic architecture and experience extraordinary hospitality as you explore Valparaiso.
 Join us on an unforgettable journey through Casablanca Valley & Valparaiso, where every moment is filled with elegance and charm.

Highlights
White Wine: Savor refined Chardonnay and Sauvignon Blanc from Chile's top wineries.
Unique Architecture: Edwardian villas and Art Nouveau palaces sit beside sophisticated restaurants in historic houses, while bohemian murals are tagged on the walls.
Ride the Funiculars: For stunning views and easy navigation of Valparaiso from these mountain-side trains.
Maritime Heritage: Delight in the bustling seaport towns and lively fresh seafood markets showcasing regional cuisine.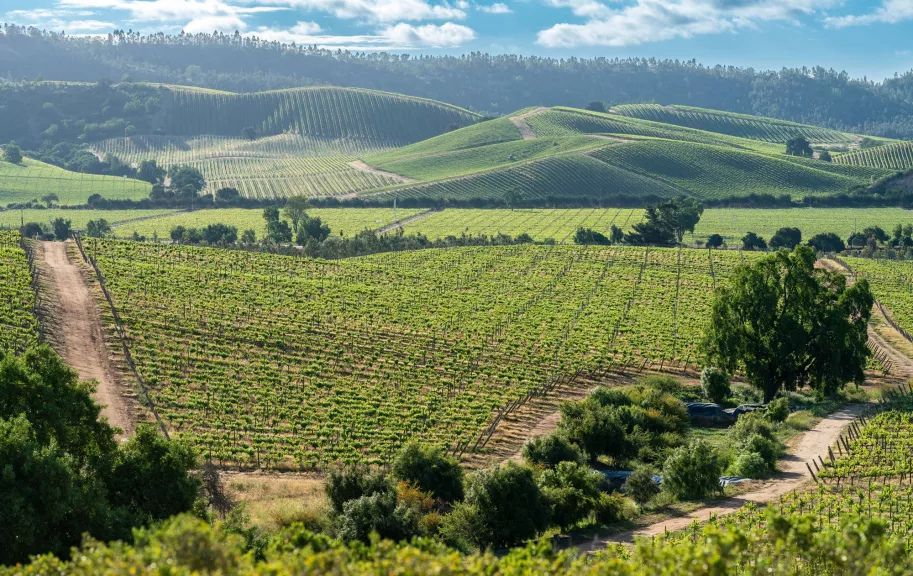 Casablanca Valley & Valparaiso Highlights
Visit Don Melchor Winery
Features
Embark on a perfect voyage to Chilean winemaking brilliance. Discover the essence and meticulous craftsmanship behind every bottle. Indulge in a private tour of lush gardens, a majestic winery, and the esteemed residence of Don Melchor de Casa Concha. Savor the latest Don Melchor vintage and explore three exclusive terroir plots from Puente Alto, the birthplace of our iconic wine. Immerse yourself in the opulence of the Don Melchor Collection Room, where vintages from 1987 to present await your discerning palate. Unveil the epitome of luxury in Chilean winemaking.
Explore Cajón del Maipo
Features
Cajón del Maipo is a picturesque area outside the Maipo Valley, known for its gorgeous landscapes and outdoor activities. Visit Condors Viewpoint to experience the beauty of these birds up close. See amazing vistas and enjoy nature!
Stay at Hotel Casa Real
Features
The Hotel Casa Real is located on the Santa Rita Estate, and was formerly the summerhouse of the winery's founder. Following restoration, it was converted into a hotel in the mid-1990s and is located in a 40-hectare park designed by leading French landscape gardener Guillaume Renner. The parks late 19th century classical style has been preserved, making it a historic monument and the only park of its kind in the country. Hotel Casa Real offers 16 beautiful rooms, fine dining, salons, and outstanding service, in a setting of absolute privacy and exclusivity. Alongside the hotel stands a Neo-Gothic chapel built in 1880 - like the mansion, it was designed by German architect Theodor Burchard.
Visit the Soul of Santa Rita
Features
Embark on a captivating journey through the rich cultural heritage and wine traditions of Santa Rita. Indulge in a guided tour of the century-old park, neo-gothic chapel, Roman baths, and ancient wine cellars. Your morning will culminate in a wine tasting, where you'll savor the winery's finest vintages perfectly paired with delectable cuisine.

Afterwards, venture into the Andean Museum, home to a remarkable collection of over 3000 ethnographic treasures from the Claro Vial Foundation. Alternatively, embrace the tranquil beauty of the vineyards as you on a leisurely bike ride. Explore the expansive botanical gardens or simply unwind by the poolside, basking in luxury and serenity.
Dine at Fuegos de Apalta
Features
Frances Mallman's Fuegos de Apalta, located in the scenic Colchagua valley, is a top-notch dining destination. Known for its exquisite cuisine, innovative dishes, and superior wine pairings, it offers a unique gastronomic experience amidst beautiful vineyards. The menu blends Chilean and international flavors using local ingredients, while the wine list features Lapostolle's premium wines along with other regional favorites.
Tour Enchanting Colonial Estate Houses
Features
Colchagua Valley's Colonial Estate Houses are a charming blend of history and architecture. Nestled amidst lush vineyards, these estates offer a glimpse into Chile's past, boasting well-preserved colonial-style structures, serene gardens, and captivating stories.
Visit World Class Wineries
Features
Visit Neyen Winery, located on an historic site with Bordeaux Cabernet Sauvignon vines from 1890, for a unique tasting experience. At Viu Manent, learn about the 2017 Wines of Chile Winery of the Year, known for its full-bodied Cabernet, Carmenere, Syrah, and Malbec. Experience Casa Lapostolle, considered one of the architectural greats of Chilean wineries.
Stay at Viña Vik Hotel & Winery
Features
Viña Vik is a luxurious destination for wine lovers. Its impressive modern architecture is set in the stunning Cachapoal Valley, surrounded by vineyards with lush rolling hills offering breathtaking views. Guests can enjoy the exclusive and immersive experience with upscale accommodations and world-class amenities. Taste the exquisite ultra-premium wines of Viña Vik and take delight in its natural backdrop filled with beauty.
Stay at La Casona Matetic
Features
La Casona Matetic is a charming boutique hotel nestled in the scenic Casablanca Valley of Chile. Surrounded by lush vineyards and rolling hills, this elegant estate offers a tranquil escape for wine enthusiasts. The hotel showcases a perfect blend of traditional Chilean architecture and contemporary design. With only seven beautifully appointed rooms, each featuring modern amenities and stunning views, La Casona Matetic offers an intimate and exclusive experience. 
Guests can indulge in delectable farm-to-table cuisine at the on-site restaurant, paired with exquisite wines produced by the Matetic Vineyard. Whether relaxing by the pool, exploring the picturesque surroundings, or savoring the flavors of the region, La Casona Matetic offers a memorable stay in the heart of Chile's wine country.
Tour Valparaiso's UNESCO-Listed Historic Quarter
Features
Valparaiso's UNESCO-recognized historic quarter mirrors its past as a vital 19th-century merchant port. The area, teeming with architectural and cultural heritage, is perched on hillsides overlooking the Pacific. Its charming, unique buildings and vivid street art, reminiscent of San Francisco, underscore its World Heritage status. It's a vibrant showcase of Latin America's late 19th-century urban development.
Learn About Biodynamic Wine Production
Features
In Chile's Casablanca Valley, several vineyards emphasize sustainable winemaking. Emiliana Organic Vineyards, a pioneer in organic and biodynamic practices, produces diverse wines. Viña Matetic is famous for its biodynamic approach, producing top-quality wines with environmental harmony. Viña González Bastías, a family-operated winery, creates wines reflecting the unique terroir of the valley using organic methods. Bodegas RE is recognized for its biodynamic wines, prioritizing minimal intervention and respect for nature.
Visit Viña Matetic Vineyards
Features
Viña Matetic Vineyards is an award-winning winery located in the San Antonio Valley of Chile. Founded in 1999, it covers 9,000 acres and produces world-class cool-climate wines like Sauvignon Blanc, Chardonnay, Pinot Noir, and Syrah. Tours offer insight into their sustainable practices and modern winemaking equipment. Guests can sample the acclaimed wines during tastings. For a more immersive experience, visitors can stay at La Casona boutique hotel set amongst the peaceful vineyard setting, making Viña Matetic a top destination for wine lovers seeking exceptional wines and sustainable methods.
Discover Wine Pairing Trips
Custom Travel Itineraries
You're in control
At Into The Vineyard, we pride ourselves on our ability to offer you complete freedom to build your perfect trip. Start with one of our many sample itineraries and customize as you desire, or start with a blank page, and with the help of our expert Trip Planners, we can create your dream wine-inspired travel experience. 

Discover other wine travel destinations
Testimonials
Carousel items
We just had an amazing trip to France/Spain to celebrate our 10-year wedding anniversary. I want to thank Into the Vineyard as they picked wonderful spots for us to stay along with some amazing adventures.

Brad Janitz

Hands down, the trip of a lifetime! My husband and I booked a two-week trip to France with Into the Vineyard, and we couldn't have asked for a better experience. Colin worked closely with us to understand our preferences before the trip and then custom-curated our itinerary based on that. Everywhere we went was absolutely amazing, and the fact all of the research, planning, and booking was done for us alleviated a lot of stress.

Heather Hale

My Husband & I just returned from a 2 week trip planned by INTO THE VINEYARD. This trip of a lifetime far exceeded our expectations...The properties we stayed at we loved & the guides were welcoming and had so much knowledge that they passed on to us. Thank you to Colin & his team for this unforgettable trip.

Bea "Bibi" Myerson

This was the second tour my wife and I have arranged through Into The Vineyard, and like the first tour, it delivered everything we had hoped for and more. Yes, a 3-week custom trip with high end accommodations and extensive use of personal guides along the way is expensive, but in our opinion worth the cost as long as it provides the desired experiences. Providing those experiences is what Into The Vineyard excels at.

Mark Sanford