Ribero Del Duero
Wine Tours
The region's unique terroir and commitment to quality make it a destination of choice for wine enthusiasts seeking exceptional Spanish wines.
Discover other wine regions in Spain
Spanish Grape Varieties:
Ribera Del Duero
Ribera del Duero is one of Spain's world-renowned wine regions and is situated along the banks of the Duero River on the country's northern plateau. Wine has been produced in the region for thousands of years, but, viticulture as we know it today, was brought to the region by French Benedictine monks from Cluny, in Burgundy, during the XII century.
Tempranillo wine is a standout in Ribera del Duero's traditional winemaking. Tempranillo has a unique dual character that sets it apart from other wine varieties. It can be enjoyed as a vibrant, young red with fruity and floral notes, or as an aged red with profound complexity and elegant finesse. Visiting family-owned and operated estates ensures an immersive experience as the owners are often on-site to welcome you and show you the winery or accompany you during the wine tasting.
Highlights
Gastronomy defined: The region is renowned for its cuisine, which features hearty dishes such as roast lamb, chorizo sausage, and morcilla (blood sausage). Local cheeses, such as Queso de Burgos, are also popular.
Dive into the culture: Ribera del Duero is rich in cultural heritage, with a history dating back to the Roman era. The region is home to landmarks, such as the Castle of Peñafiel and the Monastery of Santa María de Valbuena.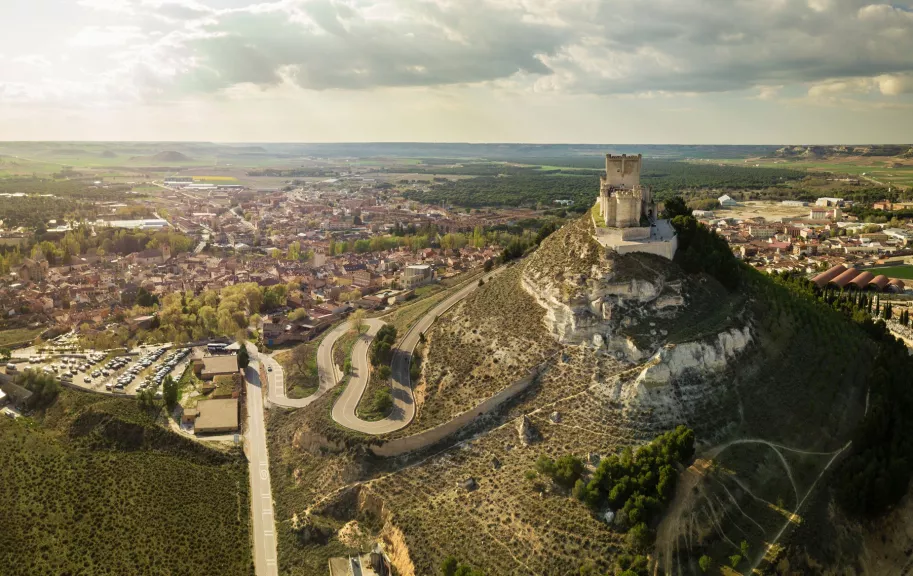 Ribera Del Duero Highlights
Stay in 12th Century Luxury
Features
The region's history is reflected in the top hotels found in the area. For instance, Abadia Retuerta Le Domaine was once a 12th century Romanesque abbey, now transformed into an opulent hotel. 
Guests can also stay at Monasterio de Valbuena, located in the best-preserved Cistercian monastery of Europe dating back to the 12th century which comes complete with thermal baths.
Exceptional Wines of Riberia
Features
The wines produced in Ribera del Duero are unparalleled, ranging from artisanal producers like Territorio Luthier to some of the most renowned Spanish winemakers such as Vega Sicilia and Pingus. These wines offer an exceptional quality that cannot be matched.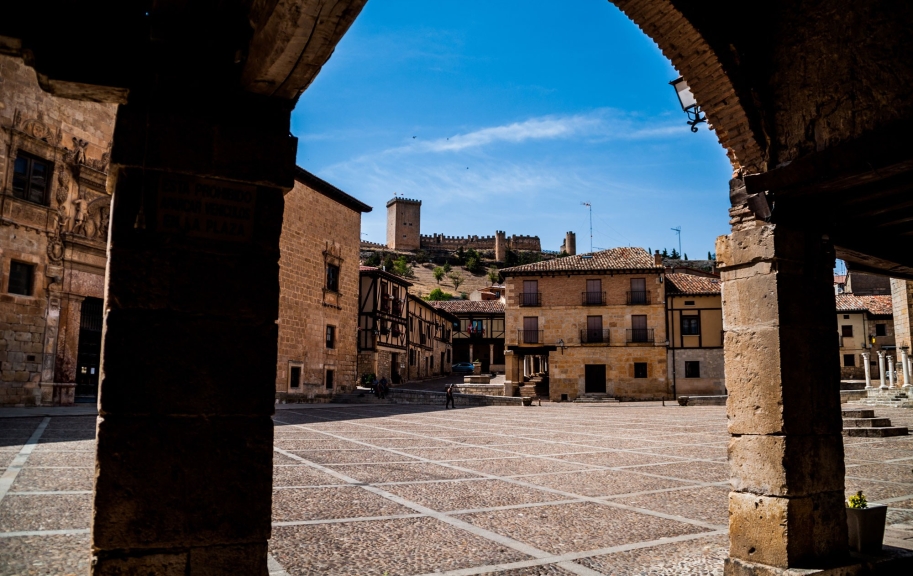 Visit Peñaranda de Duero
Features
Protected by its medieval castle that has towered above since the 10th century, this medieval town is still home to about 500 residents. In the streets of Peñaranda, there are palaces, temples, collegiate churches, and Renaissance and Baroque mansions. Next to its picturesque Plaza Mayor is one of the most outstanding buildings in the town, the Palace of the Counts of Miranda.
Experience Modern Wineries
Features
Visit the Portia Winery, designed by the famous and prestigious architectural studio Foster & Partners. A spectacular architectural project and a symbol of the modernity and the future of this producer, their wines are born in the best area of Ribera del Duero and are made in a modern style; powerful, rich, and elegant.
Discover Wine Pairing Trips
Custom Travel Itineraries
You're in control
At Into The Vineyard, we pride ourselves on our ability to offer you complete freedom to build your perfect trip. Start with one of our many sample itineraries and customize as you desire, or start with a blank page, and with the help of our expert Trip Planners, we can create your dream wine-inspired travel experience. 

Discover other regions in Spain
Testimonials
Carousel items
We just had an amazing trip to France/Spain to celebrate our 10-year wedding anniversary. I want to thank Into the Vineyard as they picked wonderful spots for us to stay along with some amazing adventures.

Brad Janitz

Hands down, the trip of a lifetime! My husband and I booked a two-week trip to France with Into the Vineyard, and we couldn't have asked for a better experience. Colin worked closely with us to understand our preferences before the trip and then custom-curated our itinerary based on that. Everywhere we went was absolutely amazing, and the fact all of the research, planning, and booking was done for us alleviated a lot of stress.

Heather Hale

My Husband & I just returned from a 2 week trip planned by INTO THE VINEYARD. This trip of a lifetime far exceeded our expectations...The properties we stayed at we loved & the guides were welcoming and had so much knowledge that they passed on to us. Thank you to Colin & his team for this unforgettable trip.

Bea "Bibi" Myerson

This was the second tour my wife and I have arranged through Into The Vineyard, and like the first tour, it delivered everything we had hoped for and more. Yes, a 3-week custom trip with high end accommodations and extensive use of personal guides along the way is expensive, but in our opinion worth the cost as long as it provides the desired experiences. Providing those experiences is what Into The Vineyard excels at.

Mark Sanford