Porto
Wine Tours
The city and its neighboring region, the Douro Valley, are at the heart of Portugal's wine culture with a rich history dating back centuries.
Discover other wine regions in Portugal
Portuguese Grape Varieties:
Porto
Capital and gateway to the North of Portugal, Porto is both the city that provided a nation with a name and a fortified wine famous worldwide: Port Wine. With its splendid geographical location on the mouth of the river Douro and an architectural heritage of exceptional quality, the historic centre of Porto is a World Heritage Property declared by UNESCO. Its hard-working inhabitants are noted for their commercial enterprise, always standing firm against outside impositions and foreign invaders, which explains why Porto has become known as the "unvanquished" city. 
When discovering Porto, you will find a traditional welcoming, and conservative environment, but also a contemporary and artistic city. This is shown in the streets, in the architecture, monuments, and museums, and in the lively terraces, restaurants, and leisure areas.
Highlights
Discover Ribeira: The historic center of Porto, also known as the Ribeira, is a UNESCO World Heritage Site and is known for its stunning architecture, including the Clérigos Tower and the Cathedral of Porto. The narrow streets and alleys are filled with traditional shops, cafes, and restaurants.
A bridge never too far: Porto is famous for its iconic bridges, including the Dom Luís I Bridge, which spans the Douro River and offers stunning views of the city and the river.
Experience Fado firsthand: Fado is a traditional form of music that is popular in Portugal, and Porto has several fado houses where visitors can listen to live performances.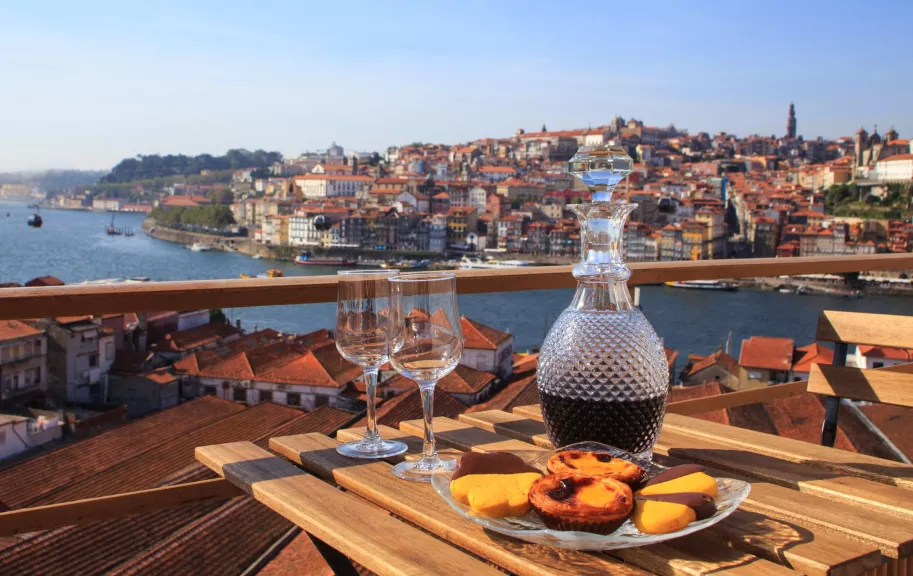 Explore Historic Porto
Features
Porto is steeped in history and filled with unique sights. From the beautiful Douro River to the iconic tile-clad buildings that line its streets, a visit to Porto is like stepping into a fairytale. Stroll through the historic Ribeira district to get an authentic taste of the Portuguese culture or take a boat ride on the Douro River for stunning views of the cityscape. To experience more of Porto's rich cultural heritage, be sure to check out some of its remarkable monuments such as Torre dos Clérigos and São Bento Train Station. Porto is also known for its delicious cuisine - be sure to sample local specialties such as francesinha sandwiches, tripas à moda do Porto (pork tripe) and other traditional dishes.
Aveiro, the Venice of Portugal
Features
Surrounded by salt-flats and beaches, Aveiro is a city with a history linked to its salt pans dating back to 959 AD. Enjoy the old lagoon and its colorful "Moliceiros" boats while admiring the fisherman's cottages contrasted against Art Nouveau mansions. Treat yourself to a meal of Bairrada's famous roasted suckling pig for lunch.
Learn About Port
Features
Experience the opulence of Graham's Port Wine Cellar, founded in 1820 and now owned by the Symington family. Enjoy a private tour of both the facilities and 3,500 aging barrels, some dating back over 100 years. Then savor a tasting of 5 Ports at Vinum; a beautiful restaurant & wine bar situated in a 19th-century cellar surrounded by 3,200 oak barrels.
Stay at the Yeatman
Features
With stunning views of the UNESCO World Heritage city and Douro River and a 2 Michelin Stars onsite restaurant, the Yeatman Hotel tops the list as the best in Porto. Seven acres of sprawling land, outdoor & indoor infinity pools, and spacious rooms with private terraces ensure breathtaking views. 
Food Tour in Porto
Features
Taking a food tour through Porto is a delightful experience that allows you to indulge in the city's rich culinary heritage and savor its traditional dishes and flavors. Porto is a city known for its excellent culinary scene, from fresh seafood to hearty meat dishes and delectable pastries.
Discover Wine Pairing Trips
Custom Travel Itineraries
You're in control
At Into The Vineyard, we pride ourselves on our ability to offer you complete freedom to build your perfect trip. Start with one of our many sample itineraries and customize as you desire, or start with a blank page, and with the help of our expert Trip Planners, we can create your dream wine-inspired travel experience. 

Testimonials
Carousel items
We just had an amazing trip to France/Spain to celebrate our 10-year wedding anniversary. I want to thank Into the Vineyard as they picked wonderful spots for us to stay along with some amazing adventures.

Brad Janitz

Hands down, the trip of a lifetime! My husband and I booked a two-week trip to France with Into the Vineyard, and we couldn't have asked for a better experience. Colin worked closely with us to understand our preferences before the trip and then custom-curated our itinerary based on that. Everywhere we went was absolutely amazing, and the fact all of the research, planning, and booking was done for us alleviated a lot of stress.

Heather Hale

My Husband & I just returned from a 2 week trip planned by INTO THE VINEYARD. This trip of a lifetime far exceeded our expectations...The properties we stayed at we loved & the guides were welcoming and had so much knowledge that they passed on to us. Thank you to Colin & his team for this unforgettable trip.

Bea "Bibi" Myerson

This was the second tour my wife and I have arranged through Into The Vineyard, and like the first tour, it delivered everything we had hoped for and more. Yes, a 3-week custom trip with high end accommodations and extensive use of personal guides along the way is expensive, but in our opinion worth the cost as long as it provides the desired experiences. Providing those experiences is what Into The Vineyard excels at.

Mark Sanford