Western Australia
Wine Tours
Stunning natural beauty, including pristine beaches, rolling vineyard-covered hills, and ancient forests makes Western Australia a diverse and captivating wine experience for both wine connoisseurs and casual enthusiasts alike
Discover other wine regions in Australia
Australian Grape Varieties:
Western Australia
Welcome to the majestic Western Australia, a region where the fine art of winemaking meets unparalleled natural beauty. The tradition of wine production here dates back to 1840, with the establishment of Sandalford in the Swan Valley region. You'll have the opportunity to taste premium wines, particularly the renowned Cabernet Sauvignon and Chardonnay. Each region offers its own unique flavors, shaped by the area's distinct climate and terroir.
But there's more to Western Australia than just wine. The region boasts stunning landscapes, from rugged coastlines to lush forests, and even striking limestone caves. Explore the Indian Ocean Sunset Coast, an area known for its breathtaking sunsets and pristine beaches.
Highlights
Taste premium wines: Explore regions such as Blackwood Valley, Geographe Bay, the Great Southern, Peel, Pemberton, Manjimup, Margaret River, and the Swan Valley to sample the finest Western Australia can offer.
Behold stunning natural beauty: From the rugged coastline to the lush forests and even, limestone caves.
Experience the Sunset Coast: This breathtaking coastline offers pristine beaches, crystal-clear turquoise waters, and abundant marine life, this region is a paradise for beach lovers and nature enthusiasts. 
Stay in elegant boutique hotels: Properties here blend old-world charm with contemporary comfort making use of historical manor homes with manicured gardens to ensure your stay is exceptional.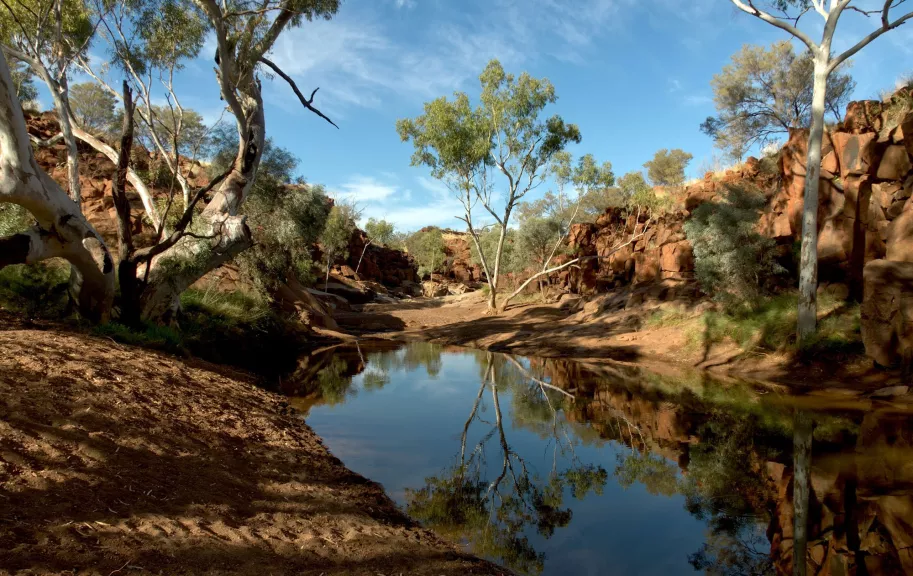 Western Australia Highlights
Explore Historic Fremantle
Features
Renowned for its well-preserved architectural heritage, this historic city offers a unique glimpse into Australia's colonial past. Here, over 150 carefully preserved Victorian-era buildings tell stories of a bygone era. The historic port city is a living postcard, with century-old streets lined with quaint boutiques, bustling cafes, and lively markets. The famous Fremantle Markets, housed in a grand Victorian building, are a must-visit.
Experience Rottnest Island
Features
Just off the Perth coast, Rottnest Island is a unique holiday destination known for its rich history and thriving ecosystems. The island is home to the happiest animal on earth - the quokka - and offers pristine beaches, aquamarine bays, and extensive biking and hiking trails.
Wander Through Perth
Features
The capital city of Perth embraces the best of both worlds, where beautiful soft-sand beaches and scenic parks meet a thriving metropolis of small bars, creative restaurants and curated street art. Explore the waterfront Elizabeth Quay and marvel at the modern architecture whilst peering across the Swan River towards South Perth.
Sample Wines in Margaret River
Features
Widely considered one of the best wine regions in Western Australia, it is a must-visit destination for wine enthusiasts. The region is known for its exceptional production of premium wines, particularly Cabernet Sauvignon and Chardonnay, but also boasts many other popular varietals such as Shiraz and Sauvignon Blanc.
Whether you're a wine lover, outdoor enthusiast, foodie, or art aficionado, Margaret River offers a diverse range of experiences, making it a popular destination for both locals and tourists visiting Western Australia.
Discover Wine Pairing Trips
Custom Travel Itineraries
You're in control
At Into The Vineyard, we pride ourselves on our ability to offer you complete freedom to build your perfect trip. Start with one of our many sample itineraries and customize as you desire, or start with a blank page, and with the help of our expert Trip Planners, we can create your dream wine-inspired travel experience. 

Testimonials
Carousel items
We just had an amazing trip to France/Spain to celebrate our 10-year wedding anniversary. I want to thank Into the Vineyard as they picked wonderful spots for us to stay along with some amazing adventures.

Brad Janitz

Hands down, the trip of a lifetime! My husband and I booked a two-week trip to France with Into the Vineyard, and we couldn't have asked for a better experience. Colin worked closely with us to understand our preferences before the trip and then custom-curated our itinerary based on that. Everywhere we went was absolutely amazing, and the fact all of the research, planning, and booking was done for us alleviated a lot of stress.

Heather Hale

My Husband & I just returned from a 2 week trip planned by INTO THE VINEYARD. This trip of a lifetime far exceeded our expectations...The properties we stayed at we loved & the guides were welcoming and had so much knowledge that they passed on to us. Thank you to Colin & his team for this unforgettable trip.

Bea "Bibi" Myerson

This was the second tour my wife and I have arranged through Into The Vineyard, and like the first tour, it delivered everything we had hoped for and more. Yes, a 3-week custom trip with high end accommodations and extensive use of personal guides along the way is expensive, but in our opinion worth the cost as long as it provides the desired experiences. Providing those experiences is what Into The Vineyard excels at.

Mark Sanford