Queensland
Wine Tours
Australia's tropical paradise.
Discover other wine regions in Australia
Australian Grape Varieties:
Queensland
Renowned for its innovation and commitment to quality, the state's wine industry has earned both national and international acclaim. The most recognized wine-growing areas in Queensland are the Granite Belt and South Burnett. These regions are known for producing wines of international standard, with the Granite Belt particularly noted for its exceptional vintages. Other emerging wine regions within Queensland include Scenic Rim, Gold Coast Hinterlands, Sunshine Coast Hinterlands, and Darling Downs.
Beyond the vineyards, be sure to experience the Daintree Rainforest, local Aboriginal cultures, and unique wildlife.
Highlights
Dreamtime Walk: Learn from local Indigenous guides where you will hear Ngadiku - stories and legends from a long time ago in local Kuku Yalanji language.
World-Heritage listed Daintree Rainforest: Connect with this sacred land full of history and amazing plants and animals, including one of the largest birds in the world, the cassowary.
Pristine beaches: Considered by many to be the most beautiful beach in the world, enjoy the expansive sands of Whitehaven Beach.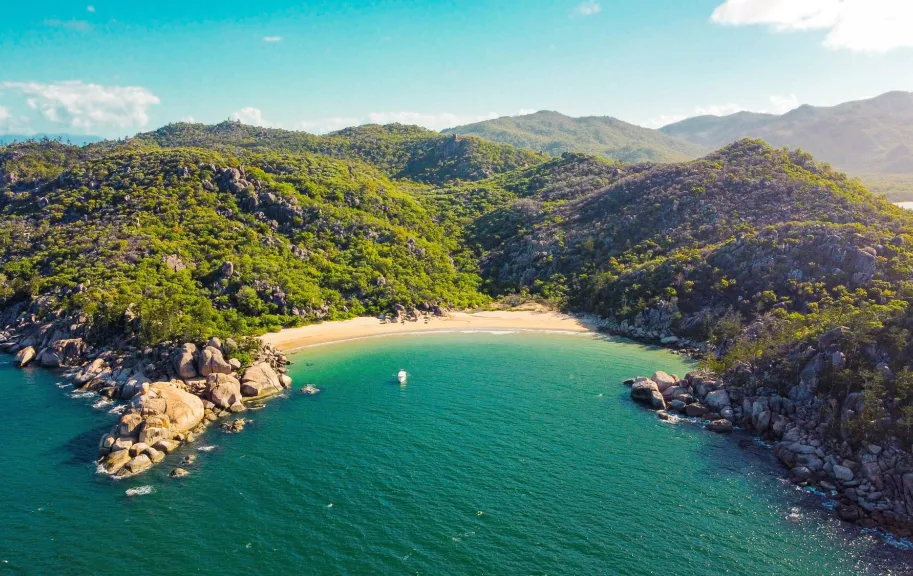 Aboriginal Cultures of the Daintree
Features
Embark on a 'Dreamtime Walk' where you will here Ngadiku - stories and legends from a long time ago in local Kuku Yalanji language. Your Dreamtime Walk begins with a traditional 'smoking' ceremony to cleanse and ward off bad spirits. Continue on a walk along private, gentle tracks, visiting special places and culturally significant sites, past traditional bark shelters and over meandering cool rainforest streams.
Cruise Along the Daintree River
Features
Snaking through the heart of the area, the densely populated mangrove estuary is home to an abundance of wildlife. We may see a snake laying on a branch of a tree, a green tree frog, or an estuarine crocodile. During your shared or private cruise, you will slowly glide along the Daintree River while a local guide shares their knowledge about the unique tropical ecosystem. The estuarine crocodile is of particular interest being the largest of all living reptiles and an iconic Australian animal. These saltwater crocodiles are hyper-carnivorous apex predators.
Whitsundays & Great Barrier Reef, from above
Features
Take in the world-famous Great Barrier Reef and Heart Reef, plus the magnificent Hill Inlet, before landing on Whitehaven Beach for a chance to soak up the sun and swim in the crystal-clear waters. The aerial views of the iconic Australian natural world are breathtaking and one of the most beautiful memories of any flight.
A piece of paradise
Features
Experience an elegant piece of paradise in the Daintree Rainforest.
Located in Tropical North Queensland, the Daintree Rainforest is the largest rainforest in Australia and at over 135 million years old, is the oldest rainforest in the world. Experience this magnificent area home to many animal and plant species not found anywhere else in the world.
Discover Wine Pairing Trips
Custom Travel Itineraries
You're in control
At Into The Vineyard, we pride ourselves on our ability to offer you complete freedom to build your perfect trip. Start with one of our many sample itineraries and customize as you desire, or start with a blank page, and with the help of our expert Trip Planners, we can create your dream wine-inspired travel experience. 

Testimonials
Carousel items
We just had an amazing trip to France/Spain to celebrate our 10-year wedding anniversary. I want to thank Into the Vineyard as they picked wonderful spots for us to stay along with some amazing adventures.

Brad Janitz

Hands down, the trip of a lifetime! My husband and I booked a two-week trip to France with Into the Vineyard, and we couldn't have asked for a better experience. Colin worked closely with us to understand our preferences before the trip and then custom-curated our itinerary based on that. Everywhere we went was absolutely amazing, and the fact all of the research, planning, and booking was done for us alleviated a lot of stress.

Heather Hale

My Husband & I just returned from a 2 week trip planned by INTO THE VINEYARD. This trip of a lifetime far exceeded our expectations...The properties we stayed at we loved & the guides were welcoming and had so much knowledge that they passed on to us. Thank you to Colin & his team for this unforgettable trip.

Bea "Bibi" Myerson

This was the second tour my wife and I have arranged through Into The Vineyard, and like the first tour, it delivered everything we had hoped for and more. Yes, a 3-week custom trip with high end accommodations and extensive use of personal guides along the way is expensive, but in our opinion worth the cost as long as it provides the desired experiences. Providing those experiences is what Into The Vineyard excels at.

Mark Sanford