Into the Vineyard Journal Entry
Rome Winery Tours
Date: 09/27/2023
Author: Paolo Biron
Visiting Rome and curious about the local winery tour options? Our team loves all things wine so in this post, we'll explore the region's unique soils, history and share which wineries we recommend you visit while in Rome. 
What makes Castelli Romani vineyards special?
Just 20km southeast of Rome, the picturesque hill towns and villages await for delightful winery tours. With a history even older than Rome itself, these charming towns offer not only a rich assortment of local food but also an impressive selection of exquisite wines.
Nestled in the Alban Hills (Colli Albani) – a landscape shaped by volcanic activity some 250,000 years ago – these towns bear witness to the colossal eruption that created a massive 25km diameter crater (known today as Pratoni del Vivaro). And the story continues with subsequent smaller eruptions that have added to the fascinating legacy of this region.
Following the extinction of the volcanoes, certain craters transformed into breathtaking crater lakes, a pair of which remain known as Albano and Nemi. Meanwhile, the Romans ingeniously harnessed the dried-out craters, utilizing the fertile soil to cultivate grapes for their exquisite wines.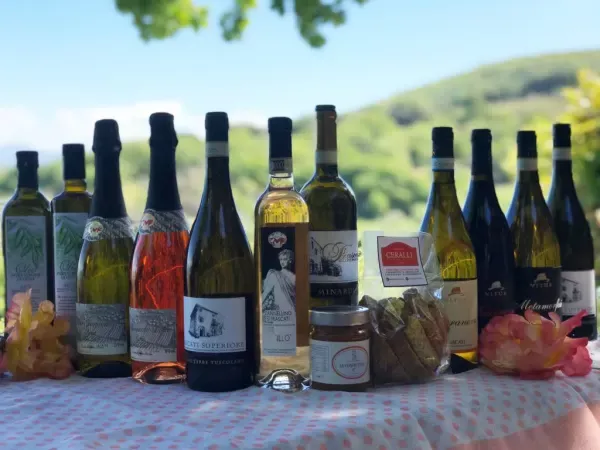 What are the Castelli Romani Wines?
Today in Castelli there are seven different D.O.C. denominations both for red and white: Castelli Romani, Colli Albani, Colli Lanuvini, Frascati, Marino, Montecompatri Colonna, and Velletri.
Italian culinary traditions have long celebrated the importance of wine, with Castelli Romani historically renowned as the region from which Rome sourced its wines. Traditionally, families in this area would produce mainly white wines for personal consumption and for sale.
Even today, the landscape is dominated by small family-run wineries, crafting exquisite white wines known as "vino dei Castelli" that are enjoyed both locally and in Rome. While these families also produce red wines, these are typically reserved for personal enjoyment and for sharing with close companions.
The Castelli Romani have a wine tradition twenty-three centuries old. Already the Greek and Latin classics testify to the presence of fourteen types of vines that gave birth to twenty-seven different wines in the territory crossed by the Via Appia (Antica) and via Latina (currently via Anagnina).